Luxury Rooftop Apartments
WELCOME TO CREATIVE VALLEY NEST
Are you a traveler who often temporarily lives in certain places? Or do you work online and are you looking for temporary accommodation? At Creative Valley we offer more than just renting a living space. Our building has several workspaces, meeting rooms and social areas to be able to work productively. In addition, our workplaces offer a range of facilities that make your working day even more productive. When you rent a temporary accommodation in Utrecht from us, we guarantee comfort, luxury and happiness. You can stay with us for a minimum of 2 weeks to 6 months. Our luxury apartments are fully furnished with all necessary equipment and furniture. Don't confuse Nest with a hotel. At Nest, as a traveling professional, you have your own apartment, approximately 50m2 in size and equipped with every comfort and convenience. For a minimum of two weeks and a maximum of 6 months, Nest is your comfortable, intimate and very complete base. High on the green roof of Creative Valley you will find an oasis of safety, peace and space in Nest. A unique, private place in an environment where it all happens.
Welcome to Nest. It's great to have you with us.
WHY BOOK DIRECTLY WITH US?
ALL THE ADVANTAGES OF OUR TEMPORARY LIVING SPACE UTRECHT CENTER
Are you coming to rent a house with us? Then you also have access to our workspaces. Creative Valley has several offices, meeting rooms and other workspaces to socialize with other flex workers. Our office also offers all kinds of facilities that ensure that your working day is productive and efficient. Curious about the facilities? Check out our Flexible workplace Utrecht website. In addition to these benefits, you can also benefit from the latest and modern furnished home. Creative Valley is located in the middle of the city of Utrecht, close to all other major cities. Think of Amsterdam, Rotterdam, Amersfoort and The Hague. If you choose to stay at Creative Valley, we guarantee your convenience and comfort for the best price. Curious about the rent and the fixed costs? Then please contact us. We are happy to tell you more!
| | |
| --- | --- |
| 01. | FOLDAWAY, SUPER COMFORTABLE KING SIZE BED (180X220 CM) |
| 02. | SPACIOUS LIVING ROOM WITH CIRCULAR TABLE, ARMCHAIR, COUCH AND 40" SMART TV |
| 03. | FULLY FITTED LUXURY KITCHEN COMPLETE WITH ALL APPLIANCES |
| 04. | MULTI-FUNCTIONAL BUILT-IN STORAGE WALL |
| 05. | LUXURY BATHROOM WITH WALK-IN SHOWER |
| 06. | SMART SLIDING WALLS ENABLING SEPARATED SPACES |
Not a hotel – this is your Nest
In a hotel room you'll find everything focused around sleeping, at Nest we focus on living. And you don't live in bed. That's why the living room with its comfortable round table is the heart of Nest's fully furbished, spacious (50m2) apartments. The perfect place to work, host colleagues or simply wind down and dine with friends.
From two to six months
If your stay in Utrecht is a temporary one, then Nest is your ideal solution. Make it your home from two weeks to six months. The chance we'll be able to host you at Nest for the entire time you're working in Utrecht is great (the chance you'll never want to leave us is also great!
Compact, complete and comfortable
Your Nest apartment has been created to make living as comfortable and easy as possible, right down to the finest details. Your (super comfortable) king size bed folds away to make room for multiple living areas that can be created thanks to moveable walls. The bathroom and kitchen are luxurious, comfortable spaces with all modern conveniences thoughtfully incorporated.
We're not your mother
But we love to mother you. We'll drop by and clean your apartment once a week, changing the bed and house linens. There's also a laundry service and our concierge – your go to for anything else you may need during your stay.
Short stay Utrecht: COMFORTABLE, COMPLETE AND SUPER CENTRAL
Located at the heart of the lively station area in Utrecht, Nest's apartments, facilities and services enable you to make the most of your time in the city – day and night. These are our promises to you: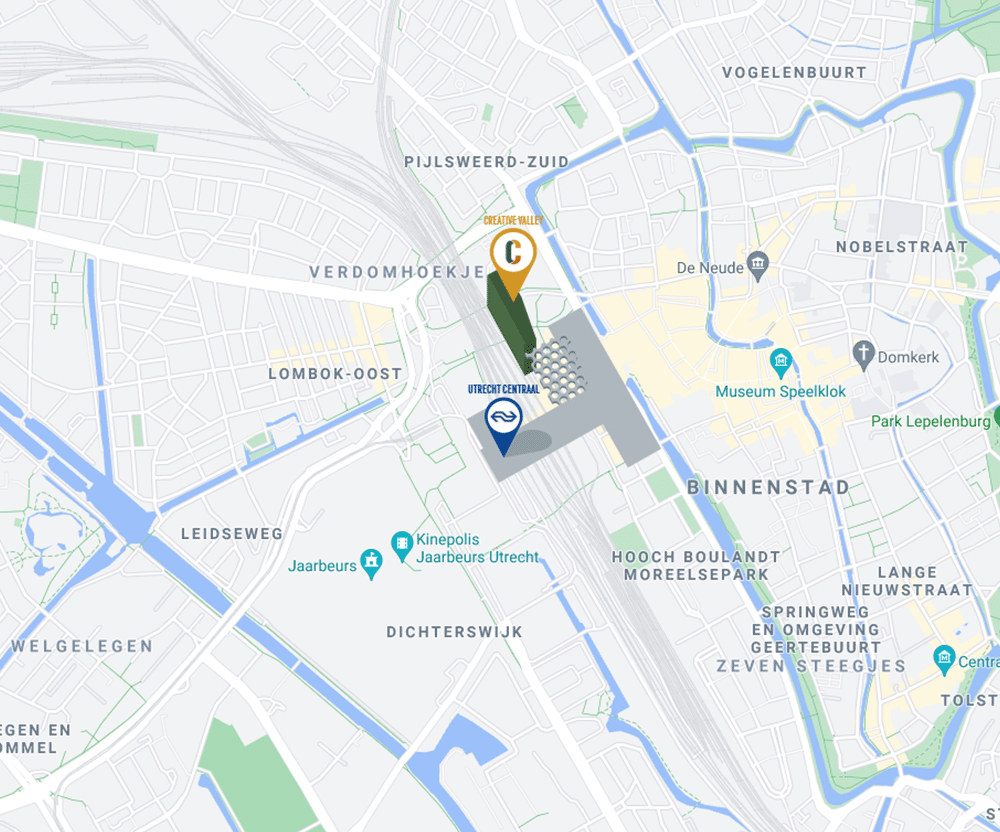 YOU CAN'T GET MORE CENTRAL
Literally. Creative Valley is located in the middle of The Netherlands, on Utrecht's Stationsplein (the square next to the city's central station). Every hour, hundreds of trains, trams and buses travel through this transport hub. With NS (national rail) you can get to Schiphol airport comfortably within 25 minutes. The city is also connected to three important motorways.
Creative Valley Utrecht CS
Stationsplein 32
3511 ED Utrecht