Luxury Rooftop Apartments
LONG STAY AT CREATIVE VALLEY NEST
Are you looking for a long stay in Utrecht? Creative Valley provides the perfect solution. Located in the heart of this vibrant city, our serviced apartments provide all of the comforts of home and more. Whether you are here on business, studying or simply taking some time out to explore this beautiful city, we have everything you need for a comfortable and enjoyable stay.
Our apartments come fully furnished to the highest standard, with all amenities provided for your convenience. Our spacious, bright rooms and modern kitchens are equipped with everything you need to make your stay as easy as possible. We also offer laundry services, so you can keep your apartment in perfect condition during your stay.
Welcome to Nest. It's great to have you with us.
WHY BOOK DIRECTLY WITH US?
Living in Utrecht in a long stay apartment
Living in Utrecht is an amazing experience that will make your stay truly memorable. From its impressive historical sites to its dynamic culture scene, you'll be surrounded by beauty and excitement wherever you go! Whether you're looking for a great place to raise a family or simply want to explore what the city has to offer, Utrecht will not disappoint. Come and experience it for yourself!
| | |
| --- | --- |
| 01. | FOLDAWAY, SUPER COMFORTABLE KING SIZE BED (180X220 CM) |
| 02. | SPACIOUS LIVING ROOM WITH CIRCULAR TABLE, ARMCHAIR, COUCH AND 40" SMART TV |
| 03. | FULLY FITTED LUXURY KITCHEN COMPLETE WITH ALL APPLIANCES |
| 04. | MULTI-FUNCTIONAL BUILT-IN STORAGE WALL |
| 05. | LUXURY BATHROOM WITH WALK-IN SHOWER |
| 06. | SMART SLIDING WALLS ENABLING SEPARATED SPACES |
Not a hotel – this is your Nest
In a hotel room you'll find everything focused around sleeping, at Nest we focus on living. And you don't live in bed. That's why the living room with its comfortable round table is the heart of Nest's fully furbished, spacious (50m2) apartments. The perfect place to work, host colleagues or simply wind down and dine with friends.
From two to six months
If your stay in Utrecht is a temporary one, then Nest is your ideal solution. Make it your home from two weeks to six months. The chance we'll be able to host you at Nest for the entire time you're working in Utrecht is great (the chance you'll never want to leave us is also great!
Compact, complete and comfortable
Your Nest apartment has been created to make living as comfortable and easy as possible, right down to the finest details. Your (super comfortable) king size bed folds away to make room for multiple living areas that can be created thanks to moveable walls. The bathroom and kitchen are luxurious, comfortable spaces with all modern conveniences thoughtfully incorporated.
We're not your mother
But we love to mother you. We'll drop by and clean your apartment once a week, changing the bed and house linens. There's also a laundry service and our concierge – your go to for anything else you may need during your stay.
The city of Utrecht, perfect for long stay
Utrecht is a vibrant city in the Netherlands that offers a wide range of activities and attractions to its residents. The city center is home to impressive historical architecture, lively restaurants, cafés, bars and shops, as well as plenty of green spaces for recreation. Residents also benefit from excellent public transportation connections throughout the region. With its beautiful canals winding through cobbled streets and picturesque houses lining them, Utrecht's charm is undeniable. Whether you are looking for an active lifestyle or simply want to relax in one of its many parks, there is something for everyone in Utrecht.
The city attracts international students with high-quality education institutions such as Utrecht University and HU University of Applied Sciences Utrecht. With a rich cultural life, the city hosts various festivals, concerts and art exhibitions throughout the year.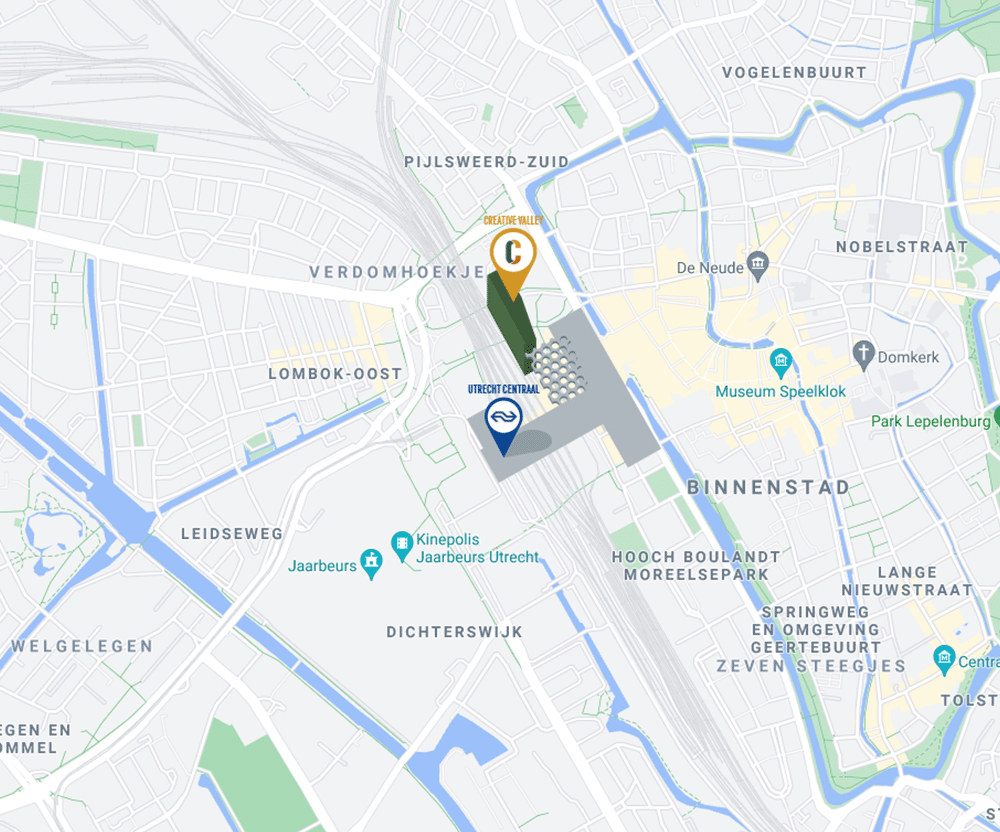 Long stay in the center of Utrecht
Utrecht is also a great place to live if you enjoy being outdoors. With its many parks and green spaces, there are plenty of opportunities for outdoor activities such as cycling, running, boating or simply enjoying the scenery. The beautiful river Vecht provides visitors with an array of recreational opportunities including kayaking, fishing and swimming. For those looking for more action-packed adventures, the region also offers exciting mountain bike trails in areas like Amersfoort and Ede. Whether you want to relax or get your heart racing, Utrecht has something for everyone!
Creative Valley Utrecht CS
Stationsplein 32
3511 ED Utrecht