Luxury Rooftop Apartments
EXPAT HOUSING AT CREATIVE VALLEY NEST
Living abroad as an expat can be an exciting and rewarding experience. It can also be daunting, with many logistical and organizational hurdles to overcome. One of the most important tasks you must handle is finding suitable housing for yourself. At Creative Valley Nest, we understand this challenge and thats why we offer our apartments in the center of Utrecht.
At Creative Valley, we strive to make your experience of living abroad a positive one by providing tailored solutions that meet all your housing needs. Let us take the stress out of finding a home. Contact us today to get more information about our apartments.
The serviced apartments at Creative Valley Nest are right in the city center. The apartment is located next to Utrecht Central Station. Our accommodation offers everything you need. It's a unique apartment and it's fully furnished.
Welcome to Nest. It's great to have you with us.
WHY BOOK DIRECTLY WITH US?
The perfect place in The Netherlands
One benefit of settling in Utrecht is that it provides easy access to other cities in the Netherlands. Amsterdam, The Hague, Rotterdam and more are all within a short distance of Utrecht. This makes it easy for expats who want to explore the country's culture and history without having to travel too far from home.
| | |
| --- | --- |
| 01. | FOLDAWAY, SUPER COMFORTABLE KING SIZE BED (180X220 CM) |
| 02. | SPACIOUS LIVING ROOM WITH CIRCULAR TABLE, ARMCHAIR, COUCH AND 40" SMART TV |
| 03. | FULLY FITTED LUXURY KITCHEN COMPLETE WITH ALL APPLIANCES |
| 04. | MULTI-FUNCTIONAL BUILT-IN STORAGE WALL |
| 05. | LUXURY BATHROOM WITH WALK-IN SHOWER |
| 06. | SMART SLIDING WALLS ENABLING SEPARATED SPACES |
Not a hotel – this is your Nest
In a hotel room you'll find everything focused around sleeping, at Nest we focus on living. And you don't live in bed. That's why the living room with its comfortable round table is the heart of Nest's fully furbished, spacious (50m2) apartments. The perfect place to work, host colleagues or simply wind down and dine with friends.
From two to six months
If your stay in Utrecht is a temporary one, then Nest is your ideal solution. Make it your home from two weeks to six months. The chance we'll be able to host you at Nest for the entire time you're working in Utrecht is great (the chance you'll never want to leave us is also great!
Compact, complete and comfortable
Your Nest apartment has been created to make living as comfortable and easy as possible, right down to the finest details. Your (super comfortable) king size bed folds away to make room for multiple living areas that can be created thanks to moveable walls. The bathroom and kitchen are luxurious, comfortable spaces with all modern conveniences thoughtfully incorporated.
We're not your mother
But we love to mother you. We'll drop by and clean your apartment once a week, changing the bed and house linens. There's also a laundry service and our concierge – your go to for anything else you may need during your stay.
Living in Utrecht as an expat
Living in Utrecht as an expat can be a truly unique and exciting experience. Located in the heart of the Netherlands, Utrecht offers a vibrant cultural scene, with plenty to do throughout the year. From its cobbled streets lined with charming cafes and shops, to its rich history stretching back centuries, there is something for everyone to enjoy in this city.
The people of Utrecht are welcoming and friendly, which makes it easy for expats to integrate into their new home quickly. With so many different nationalities living side by side in Utrecht, you'll find that language barriers become less of an issue than they might be elsewhere.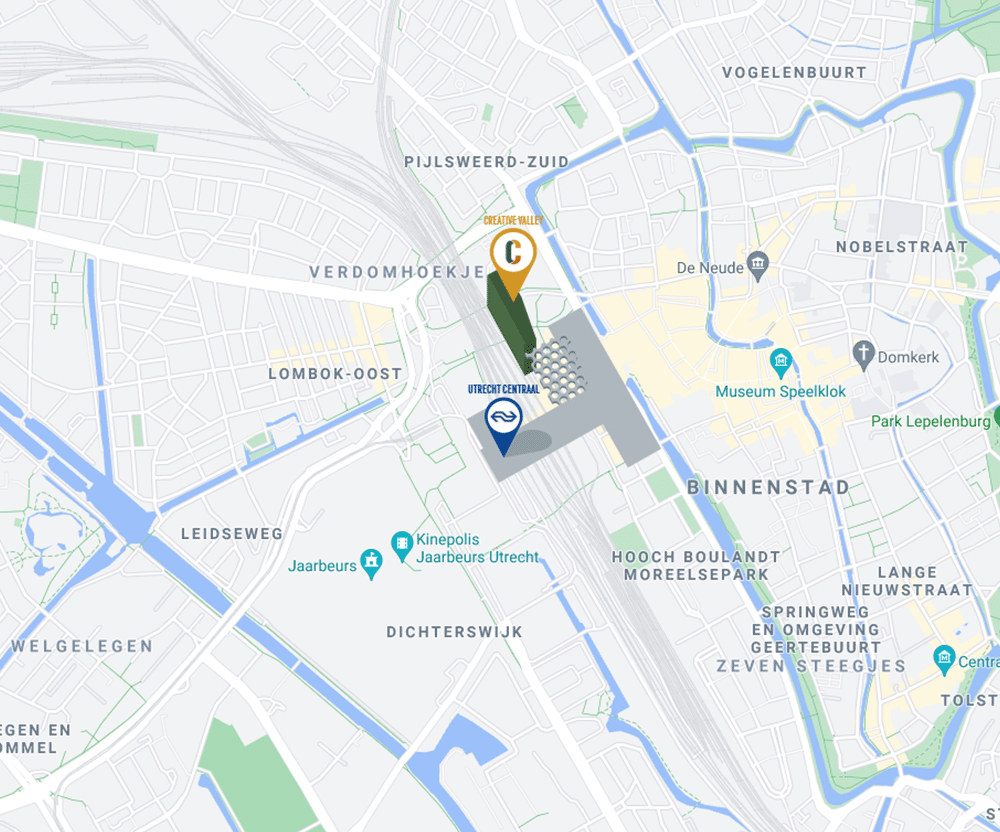 The apartment is located in the center of Utrecht
Utrecht is also well-connected by road and rail, with regular trains running between cities throughout Holland. Buses are also available if you prefer not to take the train.
Utrecht is an excellent place for expats to settle down and build their own lives. Its dynamic culture, excellent transport links and warm welcome make it a great choice for anyone looking for an exciting new life abroad!
Creative Valley Utrecht CS
Stationsplein 32
3511 ED Utrecht